365 Days in Horse Country – Wild Horse Auctions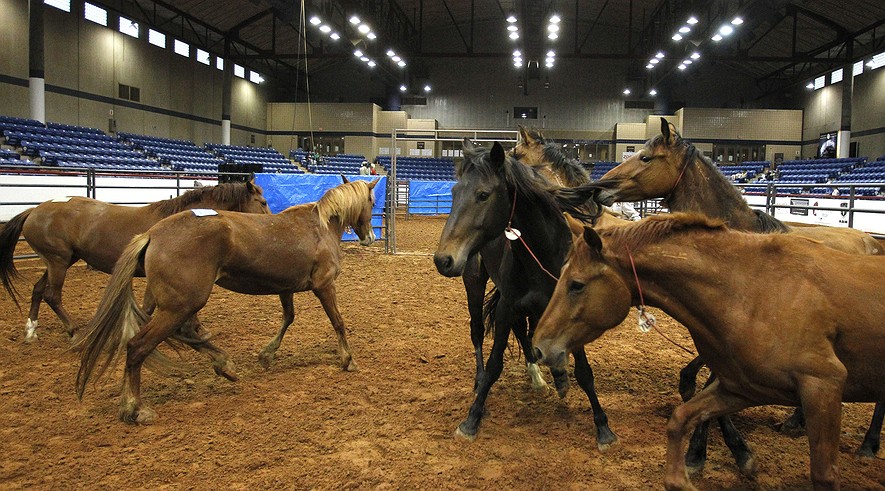 In 1971, The U.S. Congress passed the Wild Free-Roaming Horse and Burros Act, marking the beginning of the wild Horse and Burro Adoption Program. Managed by the Bureau of Land Management (BLM), the program is responsible for finding homes for wild horses and burros that have been removed from public lands.
Throughout the year, the BLM holds wild horse and burro auctions around the United States, sometimes in permanent holding stations for these animals, other times in temporary locales. Horse lovers are invited to attend and bid on horses that are kept in pens at the site. You must fill out an adoption application first and be approved before you will be allowed to take home a wild horse or burro.
Bids start relatively low for a single horse or mare-and foal combination. If you win your bid, you must have a halter and a trailer with you so you can take your wild horse home.
Wild horse and burro auctions take place on the internet, too. Photos are posted along with short descriptions of the animals, and potential adopters are invited to bid after filling out an adoption application.
Many wild horse and burro adoption events also feature training sessions by trainers experienced working with wild horses. By watching these experts at work, you can learn a lot about how to train your newly adopted wild equine. Since wild horses and burros are taken off the range and put out for adoption almost immediately, they have had very little handling and never worn a halter. They don't know the basics that most horses and burros know, such as how to lead and not to be afraid of humans. They require a lot of basic training, but it's well worth it in the end. Owners of adopted wild horses and burros often report wonderful and deep bonds with their equines, who usually turn out to be incredible companions.
Michael