365 Days in Horse Country – Attend a Clinic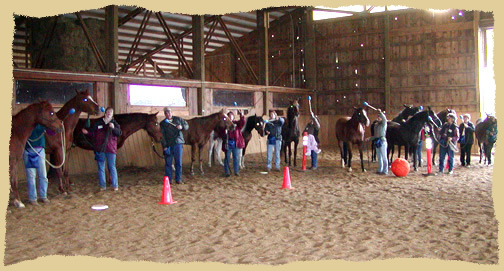 Not everyone has the financial resources to hire a full-time trainer, but thanks to the many clinicians who travel around to teach horse owners, you don't need deep pockets to learn.
Attending a clinic is a great way to build your horsemanship skills and find new ways to solve problems with you horse. Clinics specific to certain disciplines can be found, as well as basic clinics that address horses of all breeds and disciplines. Some of the different types of clinics include training gaited horses, working in the round pen, good ground manners, and de-spooking.
Some clinics are one-day or one-weekend events. Others last for several days or even a week. The one you choose should depend on what you can afford, what you need ot learn, and how much time you have to spend. In some cases, you can bring your horse to the clinic. Other times, you can just be a spectator. It's more expensive to participate in the clinic with your horse, and it can be hard to find a slot that is open. But you'll never have trouble finding a ticket as an auditor.


If you can't find a clinic in your area, the next best thing is to order a training DVD from a clinician you like. And whose principles mirror your own. Many good clinicians had DVDs for sale on their websites. These DVDs contain the same information you will learn in a clinic.
Here's some ways to go about finding a clinic;


Watch the calendar section in your local horse-friendly publications.

Get on the mailing list of clinicians you admire and respect.

If you don't know of any clinicians, search online for "horse" and "clinician". You'll find more choices than you can shake a manure fork at.

Ask other equestrians in your area, your veterinarian, and the folks in charge of your riding club.

"Like" my Facebook page at https://www.facebook.com/MichaelStuartWebb Oftentimes, I will blog about worthwhile clinics, and events, happening in the equine community!
Michael